What Is Gift Card Marketing?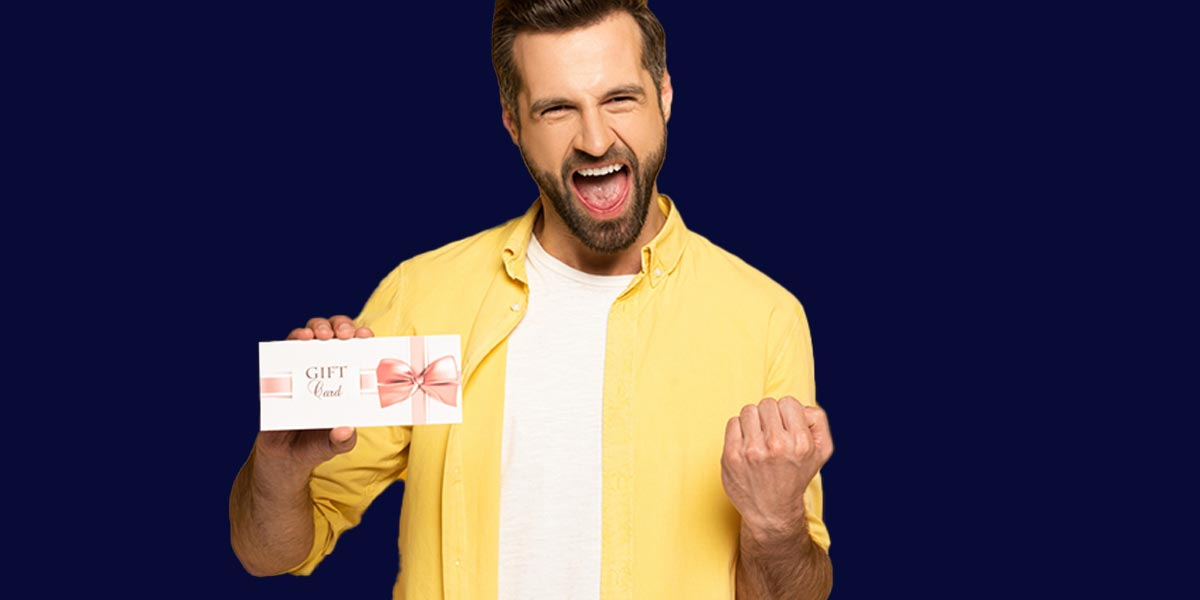 A fantastic gift card marketing program can go a long way for any business. With gift card sales expected to hit $1.4 trillion by 2026, you'll want to create gift cards to increase your revenue and get a leg up on the competition.
However, setting up your gift cards is just one step of the process. You'll need an effective marketing strategy to get them noticed and keep customers returning again and again. Read below to learn more about gift card marketing, how to promote a gift card on social media and various marketing strategies to get your gift cards on the map.
Benefits of Gift Cards for Your Business
Gift cards pose significant benefits for your business, including:
1. Boost Your Sales
Gift cards make easy, versatile gifts, so it's no surprise we've been buying and using them for decades. With continuous growth and demand every year, you'll want to implement an effective gift card program to avoid missed opportunities.
Research supports their profitability, revealing:
55% of people's gift budgeting will be spent on gift cards.
33% of people will spend more on a gift card than an actual gift.
The average consumer spends $59 more than the gift card's value.
2. Increase Brand Awareness
Branding is crucial to help your business stand out from competitors, and gift cards can do exactly this. With an effective gift card marketing strategy, you can increase your brand awareness. For new, small businesses, it's a good way to get your company on the map.
Each gift card comes with your company name and logo engraved. These tiny billboards for your company make an immense marketing tool once people see them displayed, purchase them or give them as gifts. When loyal customers buy a gift card, they essentially become brand ambassadors, spreading the word of your business to friends and family.
3. Attract New Customers
The ultimate goal of any marketing strategy is to attract new customers to your brand. Gift cards make this happen. People may have been unfamiliar with your business when they receive gift cards for holidays or special occasions. A great gift card program makes them curious about your products and services, especially since they have free money to spend.
Word-of-mouth advertising is priceless and a form of endorsement that holds a lot of weight to attract new customers and make loyal ones in the process.
4. Build Customer Loyalty
Establishing connections with your customers can keep them returning. When they feel a strong bond with your company, they'll likely continue to use your services and products over competitors. Therefore, gift cards are effective as part of a broader loyalty incentive program.
Build customer relationships with gift cards, bonuses and coupons for meeting specific spending benchmarks. Your audience will likely return to your store to reach that required spend amount. Deepening customer loyalty is one of the most substantial benefits of gift card programs.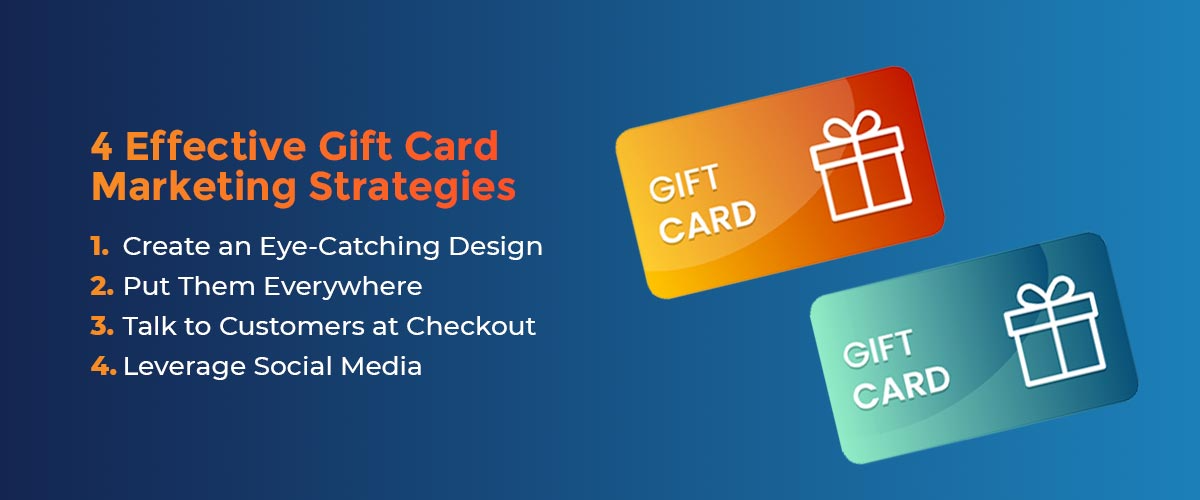 4 Effective Gift Card Marketing Strategies
An effective gift card marketing strategy will help you uplift your brand name and soar above the competition. Keep reading to learn the four best gift card marketing strategies for your business:
1. Create an Eye-Catching Design
Differentiate your gift cards with bold, eye-catching designs so customers have no choice but to stop and look. These cards are an extension of your brand, so creating a beautiful, unique design will reflect highly on your company.
Create custom gift cards with PLI Card Marketing Solutions. We come up with customer-centric designs that are fun, memorable and make fantastic gifts so your customers are sure to promote them far and wide. While designing your card, include your brand's logo, colors, interactive features and even dimensional effects to make your company stand out.
2. Put Them Everywhere
Place your gift cards on display shelves, cases and near the point-of-sale (POS). Use custom acrylic display cases you can switch out for colorful inserts to attract customers.
Promote your gift cards throughout your store, from the windows to the checkout counter. Display them prominently across signs and throughout your company website. Advertise them on your bags and receipts so customers can't miss them. It's also essential to heavily advertise them around the holidays.
3. Talk to Customers at Checkout
Promote your gift cards at the checkout counter to get customers interested. Provide your employees with buttons to wear that advertise your gift card program. They'll serve as a great conversation starter for employees to upsell the customer and encourage them to purchase a gift card.
4. Leverage Social Media
In the digital age, most brands opt to promote their cards online. Why use social media to sell gift cards? It's simple and effective. Cover your social media channels with posts about your gift card program and consider running boosted ads to reach as many people as possible. More than half of the world uses social media, so you'll ensure the most success when you promote your gift cards in these digital spaces.
The good news is that using Facebook to promote your gift cards, and social media platforms like Instagram and TikTok, has never been more accessible. Read our quick tips to learn how to use social media to sell gift cards:
Add the gift card feature to your profile: Let your followers know you're selling gift cards by adding the feature to your profile. On Instagram, it requires a quick click to get these featured on your account. On Facebook, you'll need to register your cards with a certified partner to get them automatically added to your account.
Post creative ads: Use graphic design tools like Photoshop or Canva to create colorful promotional posts about your gift card program. Schedule these posts a few times weekly to reach as many people as possible.
Use paid advertisements: Paid ads are a cost-effective way to promote your gift cards to people in your area.
Utilize video as much as possible: We've seen time and time again how videos drive engagement. Consider TikTok, Instagram reels or Facebook stories to get your name out there and encourage shoppers to purchase cards from you.
Gift card marketing on social media effectively promotes your gift cards and gets people to notice your brand.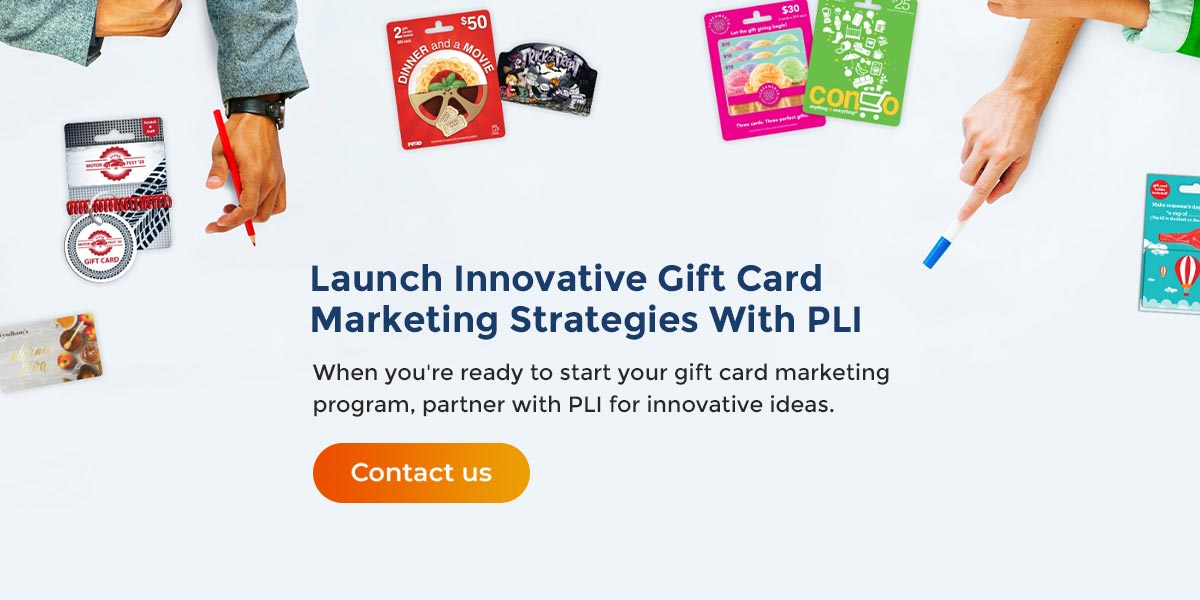 Launch Innovative Gift Card Marketing Strategies With PLI
When you're ready to start your gift card marketing program, partner with PLI for innovative ideas. See why brands across the world rely on us for our card designs, manufacturing and marketing ideas to take their brands above the competition.
We're eager to support your business every step of the way with competitive prices, speedy delivery and personalized customer support. Expect unique and effective marketing solutions tailored to your needs.
To get started on your gift card marketing program, contact us today.
Sources:
https://www.globenewswire.com/news-release/2022/05/25/2450299/0/en/Global-Gift-Cards-Market-to-Reach-US-1-4-Trillion-by-the-Year-2026.html
https://www.globenewswire.com/news-release/2020/07/29/2069204/0/en/United-States-Digital-Gift-Card-and-Incentive-Card-Market-to-2024-Impact-of-COVID-19-on-the-101-Billion-Projected-Industry.html
Recent
A Spooktacular Halloween at PLI
1 Nov 2023
PLI Announces New Leadership Awards Program
19 Oct 2023
PLI Forges Ahead with Progress of the New Manufacturing Facility, LV2
18 Oct 2023
PLI Awarded 2023 RGCA Company of the Year
10 Oct 2023
PLI Sponsorship and Attendance at RGCA Forum 2023
9 Oct 2023
PLI ASHEVILLE QUARTERLY FIRESIDE CHAT – CENTERS OF MANUFACTURING EXCELLENCE TRANSITION
19 Sep 2023
PLI ANNOUNCES NEW G&L MANUFACTURING AND ORGANIZATIONAL ALIGNMENT
1 Sep 2023
7 Reasons a Loyalty Card Can Help Your Business
28 Aug 2023
News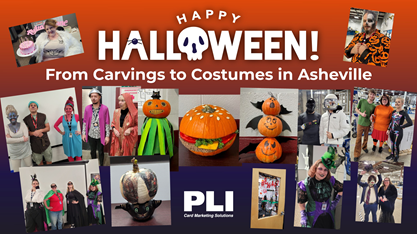 A Spooktacular Halloween at PLI
A Spooktacular Halloween at PLI | 1 Nov 2023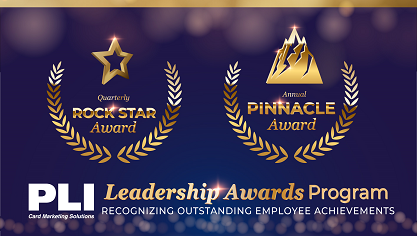 PLI Announces New Leadership Awards Program
PLI Announces New Leadership Awards Program | 19 Oct 2023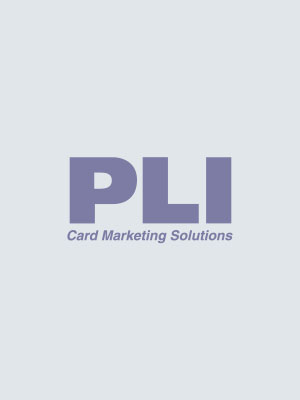 PLI Forges Ahead with Progress of the New Manufacturing Facility, LV2
PLI Forges Ahead with Progress of the New Manufacturing Facility, LV2 | 18 Oct 2023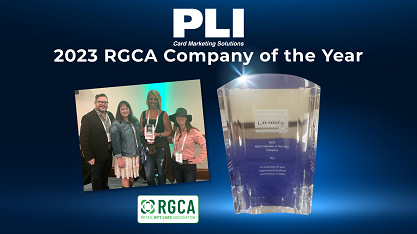 PLI Awarded 2023 RGCA Company of the Year
PLI Awarded 2023 RGCA Company of the Year | 10 Oct 2023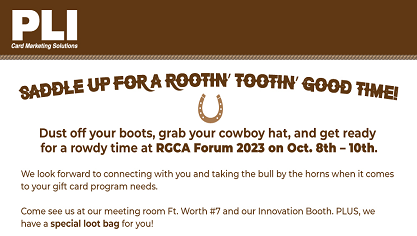 PLI Sponsorship and Attendance at RGCA Forum 2023
PLI Sponsorship and Attendance at RGCA Forum 2023 | 9 Oct 2023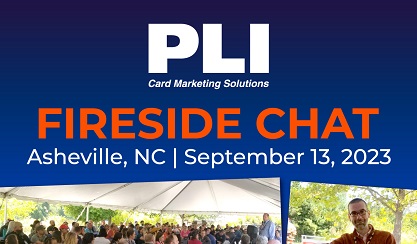 PLI ASHEVILLE QUARTERLY FIRESIDE CHAT – CENTERS OF MANUFACTURING EXCELLENCE TRANSITION
PLI ASHEVILLE QUARTERLY FIRESIDE CHAT – CENTERS OF MANUFACTURING EXCELLENCE TRANSITION | 19 Sep 2023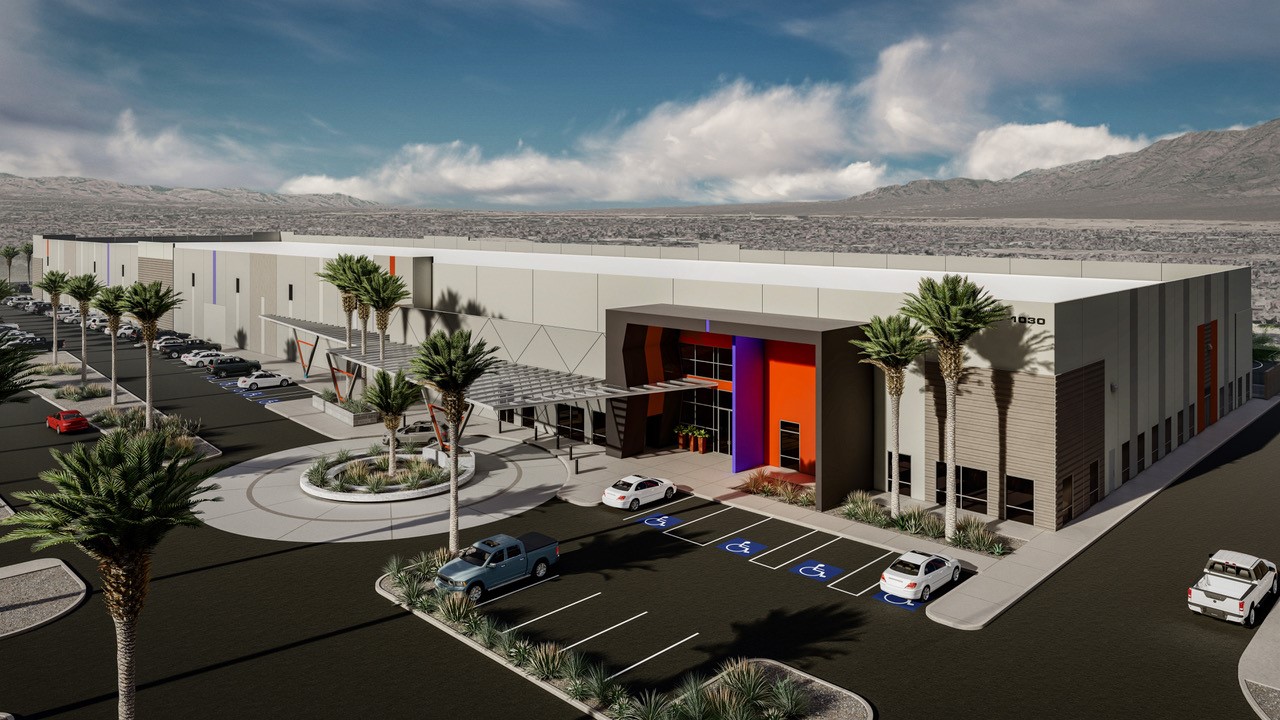 PLI ANNOUNCES NEW G&L MANUFACTURING AND ORGANIZATIONAL ALIGNMENT
PLI ANNOUNCES NEW G&L MANUFACTURING AND ORGANIZATIONAL ALIGNMENT | 1 Sep 2023